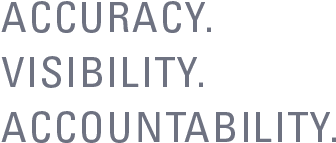 The philosophy of Accuracy, Visibility and Accountability was incorporated into AdvanTech's culture because of how we view our role of improving our customers' operations: using Automated Data Acquisition and Data Warehousing tools to increase accuracy and visibility, and to provide the detailed audit trails that provide the required accountability.
Adding value can be accomplished by increasing sales or decreasing operating expenses. We believe our services can accomplish both when providing Logistics, IT & Administrative Services or Initial Outfitting & Transition (IO&T) to our clients.
Accuracy applies to how important precise measurements and calculations are to your processes, as well as to ours. Visibility pertains to making your processes clearer, but also our openness in arriving at a solution and showing results. Accountability rests more on us – we hold ourselves accountable for the solutions we provide. These solutions are integrated into our leadership and employees, our strategic partnerships, and when we continue to explore the possibilities of new technologies.
Learn more about us or contact us to ask for assistance.